Zeek wrote:
I am getting an itch...
I hope Amone took care of that itch, I find scratching helps.
Just did my first
Grounds of Valor
alliance exp party and it levels you quickly. From what ls mates tell me, its the new agreed way of leveling before Abyssea ( abyssea they tell me is 70+).
Basically it's like Fields of Valor except it takes place in dungeons AND as long as you don't zone, the bonus exp you get after completing a page becomes higher.
So lets say an alliance of 18 people all level sync and do page 1. As long as the mob cons easy prey or above, they will get credit for the kill and get the bonus after completing the page. (in this case you set the page 1 to auto-renew, so you don't have to return to the book thing).
So you have this alliance wailing on easy prey/decent challenge and getting like 12 exp per kill, but the bonus is like 1k and after every successful page completion that 1k reward gets higher maybe reaching 2k+. If your alliance completes a page in about 5 min then thats 1-2k+ in 5 min >.>.
(They also changed the repop times of the mobs to a low number, like 5 min, so there's not much waiting if at all). Think I spent this afternoon until night on warrior level 44 - 59 and only left because I wanted to give some people waiting my spot.
Denruki told me that Gusgen Mines and Crawler's Nest were the two heavy spots for this. Though I have done it with a smaller party in Maze of Shakrami.
It may seem like SE killed gameplay at first glance, but I do like it in that if you have to go, theres no pressure to wait it out to look for a replacement. No one will miss you if you are fighting Easy Prey/ Decent Challenge with 10+ people. ;>_> also gives you more leeway with subs you can use and stuff in general.
Also Square has made it clear that they want people to spend less time leveling and more time actually playing the game since theres so much content.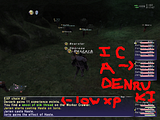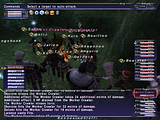 Denruki invites me to his Ground of Valor party and as you can see the exp per mob isnt high at all.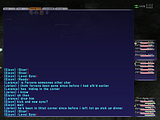 There are still taboos that players will perform though, like this taru who was in alliance and went afk behind a rock so no one would see him and leeched exp.