Thanks to everyone's strong work efforts, we have a healthy supply of triggers and we are ready to pop gods now. We'll get our hands on another Gem of the East and pop that Diorite soon, so expect another Byakko and Seiryu to be added to the list in time.
Available Triggers
(Updated 9/14/09):
Wishlist
The wishlist is closed, effective August 29th, 2009.
September 26th, 2009

: Byakko!
(two linkshell owned, one personal)
We will only kill one particular god every Saturday after Limbus. Some people will need time to change jobs or gather supplies after Limbus, so be aware that we will not be able to start immediately after we finish.
Here are instructions on how to gain access to the Sky warp from the three crags.
LS owned triggers will have gil drops sold and split; providers of personally acquired popsets will determine their own rules.
FFXIclopedia wrote: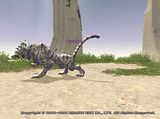 FFXIclopedia wrote:
Notes:
■ Spawned by trading a Gem of the West and an Autumnstone to the ??? at E-5/F-5.
■ Can be respawned 15 minutes after the last Byakko was defeated.
■ More than one of the same Abjuration can drop from one Byakko i.e. two Neptunal Abjuration: Hands. Drop rates may vary due to this.
■ Has been mugged for a bit over 3000, by multiple thieves back to back.
■To remove the Additional Effect, throw an East Wind dropped from Seiryu. (Only works if the East Wind successfully hits.)
■ Uses all the standard tiger TP moves, plus the following spells/abilities:
■ Uses all the standard Adamantoise TP moves, plus the following spells/abilities:


• Triple Attack (33%-50% activation rate)
• Perfect Dodge
• Additional Effect: Light Damage
• Banish IV
• Banishga III
• Dia III
• Diaga III
• Holy