* When the Double Attack job ability activates when using this weapon, the multi-hit will not work during that extra hit.
* Multi-hit does stack with the Jump and High Jump abilities of DRG, making SAM/DRG a viable choice for many activities. Soloing a light skillchain is made much easier with this combination.
=============================================
Unstable Cluster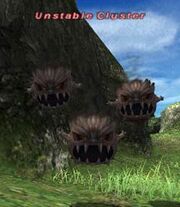 THIS IS NOT A BCNM, IT IS A SPAWNED MONSTER. REQUIRES POP ITEM & RIVERNE - SITE #B01 ACCESS. CAP 50.
Riverne - Site #B01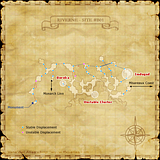 * Spawned by trading a
Clustered Tar
to the ??? in the back of the cave at (J-9).
* The entrance to the cave is located at the southeast corner of (I-9).
* The ??? respawns 15 minutes after the Unstable Cluster is defeated.
* Estimated to have around 10,000 Hit Points.
*
Has a natural Blaze Spikes effect.
* Attacks multiple times each round - the number of attacks are equal to the amount of bombs remaining in the Cluster.
* Susceptible to Slow, but resistant to Paralyze and Blind.
* Somewhat resistant to Sleep effects.
* Sleep and Sleep II will work, but not reliably. Elemental Seal → Sleep works reliably, however.
* Light Shot's sleep effect works fairly reliably.
*
Susceptible to Stun, but somewhat resistant to the stun effect of Head Butt and that of Weapon Skills such as Flat Blade.
* Uses normal Cluster special attacks.
* Refueling can be dispelled.
*
Starts using Self-Destruct at 55% health. Some form of Stun is recommended to prevent this.
* Can be defeated by a specialized group of 6 characters capped at level 50 (a Paladin tank, melee with Ninja subjobs, and a form of Stun), or a group of well-equipped Summoners using Carbuncle and meds.
Original Link:
http://wiki.ffxiclopedia.org/wiki/Unstable_Cluster
said they would come on their Black Mages.
may have a friend that needs it that may or may not come.
may or may not come due to PC issues.
Kat says that the clusters that drop tar are also around the area. Keep in mind that the area is capped 50. In order to access this area you need to be on PM 4-2 Ouryu fight or above.