. This is an 18 man bcnm fight versus the Ark Angels in the Zilart story line.
We have done 2 successful DH Divine Mights, but we barely won on both occasions. I ask for participation from those that have completed this because in order to take on newer and harder alliance fights, this one has to be flagged.
Divine Might
Start NPC:
Yve'noile - Shrine of Ru'Avitau
Requirements:
Zilart Mission 14: Ark Angels
active
Items Needed:
Illuminink
Parchment
Ark Pentasphere
Moonlight Ore
(For Reacquisition Only)
Reward:
Abyssal Earring
(INT +2, Scythe skill +5, Dark magic skill +5) or
Beastly Earring
(CHR +2, Evasion +5, Axe skill +5) or
Bushinomimi
(STR +2, Great Katana skill +5, Parrying skill +5) or
Knight's Earring
(VIT +2, Shield skill +5, Divine magic skill +5) or
Suppanomimi
(AGI +2, Enhances "Dual Wield" effect, Sword skill +5 )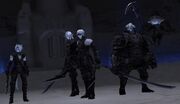 All five Ark Angels standing together.
Walkthrough
Completing this quest will also complete Ark Angels.
* Enter the Shrine of Ru'Avitau.
o After arriving in Ru'Aun Gardens take the centre portal to the main island. Travel straight to the centre of the island.
Be careful not to stray, or you'll aggro the Groundskeepers in the walls.
* In the Shrine of Ru'Avitau, continue straight until you find an unmarked target on the wall.
- Examine the target to receive the cutscene.
Do not forget to get this cutscene. If you fail to get this cutscene, you can still enter the fight and kill the AAs, but you will not get the earring or the mission completed.
* Ensure "Divine Might" is listed as an active quest in the "Outlands" section of your Quests menu.
* Obtain an Ark Pentasphere by trading Illuminink and a Parchment to the Qu'Hau Spring (H-6) in Ro'Maeve during a Full Moon, between the hours of 0:00 and 3:00, and during clear weather. (Foggy weather doesn't have an onscreen icon.)
- The Qu'Hau Spring will fill with greenish water when it is ready for trade. Trading when all conditions are met will not result in an orb if the Spring has not filled with water.
- Illuminink drops from
Cursed Puppets
and
Magic Flagons
in Ro'Maeve.
- Parchment can be found under Materials > Leathercraft in the Auction House.
* Go to La'Loff Amphitheater and use the Ark Pentasphere to enter a battlefield where you will confront and defeat all 5 Ark Angels.
You may use any entrance to the La'Loff Amphitheater, as long as your entire alliance uses the same entrance.
* 18 people are allowed into this fight.
Only one Ark Pentasphere is required per alliance
. You can be the orb trader even if you have already cleared the BCNM.
* Buffs will carry into the fight. Buffing and resting before entering is advised to save a little time.
* After completing the BC, return to the unmarked target in the Shrine of Ru'Avitau for the completion cutscene and the chance to choose your reward.
* You will lose EXP when you are KO'd in the battlefield.
Battle Description
* Enemies are 5 Ark Angels + pets, most of which cannot be slept.
* Each Ark Angel has two 2hr abilities, and they can use some of them more than once (for example, Mighty Strikes can be used multiple times).
* You have 30 minutes to defeat all of the enemies.
o Time is a huge factor in this battle.
o
Make sure everyone has reraises
, to minimize heal time after wipe.
o After party wipes, do not reraise until remaining ark angels return to the arena.
* There's always someone who asks about EXP loss…. So please note: DM is a quest, not a Zilart mission, and thus, deaths result in EXP loss.
*
Ark Angel TT (BLM/DRK)
o Uses Manafont once, and Blood Weapon multiple times.
o Uses AOE Petrify.
o Teleports around the arena at random, making it difficult to melee him.
*
Ark Angel MR (BST/THF)
o Uses Havoc Spiral (AoE Sleep&Gravity weapon skill).
o Uses Perfect Dodge once.
o Uses Familiar at will (if her pet is alive).
o Starts out with a pet, and she can Charm party members, regardless of if she still has a pet or not, though chances increase if the pet dies before her.
o Summonable pet types include Mandragora, Tiger and Crab. The Mandragora pet is extremely dangerous and can cause a wipe with Dream Flower.
*
Ark Angel GK (DRG/SAM)
o Has one pet (a Wyvern) which can be slept.
o Uses Meikyo Shisui after about 75% health and will use it multiple times.
o Will attempt to do a self-Light skillchain after every use of Meikyo Shisui. The weapon skills can be blinked to interrupt the SC.
o Susceptible to Gravity.
*
Ark Angel EV (PLD/WHM)
o Uses Benediction once.
o uses Invincible at will.
o Has an AoE Dispel move.
o Has Shield Bash, which can make kiting difficult.
o Will use Spirits Within, which can one-shot whoever has hate at the time.
o Very susceptible to both Bind and Gravity, provided she does not have any shadows up.
o Uses Dominion Slash, with AoE damage and added silence effect.
*
Ark Angel HM (WAR/NIN)
o Uses Mighty Strikes at will.
o Uses Mijin Gakure once.
o Susceptible to Bind and Gravity, but ensure that he does not have any shadows up.
<Supertank Strategy>
"Supertank" means that a heavily merited Paladin with exceptional gear can tank all of the Ark Angels at once, provided that his/her party contains enough healers.
Party setup: Tank party: 1 paladin, 3-4 white mages, 1-2 red mages DD Parties: DD's with 1 healer per party as available. 1 person designated as puller.
Strategy:
* Have the two DD parties remain near the entrance, and select someone from one of these parties to be puller.
* Have the Tank party go to the top of the stairs. Tank enters arena and gets visual agro only, and then heads back to the top of the stairs.
o Be sure the tank does not attack the ark angels or use provoke on them. As long as the tank has only visual agro, the healers will not get hate as they heal him.
o TT will remain at the center of the arena, and will not follow the paladin.
o WHMs keep paladin alive. RDM keeps healers refreshed and assists with healing.
o Mages must be sure to have echo drops and poison potions.
o Tank should equip Earth Staff to minimize damage taken.
The puller goes to the Paladin and pulls the ark angels one at a time, taking them back to the DD's to kill.
* Order of kill is: MR --> GK --> HM --> EV --> TT..... however, EV --> GK --> MR --> HM --> TT is also known to work.
Tips:
* Sleep GK's wyvern while fighting him.
* When fighting HM, have shadows up to avoid damage from Mijin Gakure.
* Use poison potions to counteract MR's AOE sleep.
* Have white mages ready with stona and paralyna when fighting TT.
* RDMs and BLMs user nukes on TT. Use chainspell if still available.
* Do not use Summoner Blood Pacts (Ward and Rage) as when you un-summon your avatar you WILL pull hate off the super tank, causing the AAs to immediately kill the SMN then go after the rest of the alliance.
* As with any Divine Might strategy, time is your biggest enemy.
o Make sure everyone has reraises, to minimize heal time after wipe.
o After party wipes, do not reraise until remaining ark angels return to the arena.
* Do not use any pets of any kind! Make sure your Summoners, Puppetmasters, Dragoon's and any other pet-wielders keep their pets away in this strategy. If your pet is killed while supertanking, the mobs will disengage the supertank and run to kill the alliance.
Strategy Pros:
* It's much easier to get 1 solid paladin than several black mages.
* Less chance of confusion, and people attacking the wrong ark angel.
* Eliminates possibility of people dying inside the arena.
* The puller is the only one that needs to memorize the kill order.
Strategy Cons:
* Dependent on having a good, preferably merited, paladin.
* Dependent on having enough white mages and red mages to keep the paladin alive.
Making this Strategy Better:
This was my setup and strategy.
Alliance consisted of: 1-NIN 2-PLDs 2-WAR/NINs in kiting gear. 1-RNG 2-WHM 3-RDM 7-Various DDs (notice the lack of BLMs, and this was done before the manaburn nerf)
Our kill pattern was Galka, Mithra, Hume, Elvaan then Taru.
Had the NIN tank the galka straight up. Had the PLD with the lowest staff skill, tank the mithra. Had the other PLD and the 2 WARs kite the hume and elvaan up and down the tunnel. Had the RNG and a RDM duo the taru to keep him busy. The RNG just ran out of the range of Aga's and just took single target spells against shadows.
Went easy and had a lot more fun.
LINK:
http://wiki.ffxiclopedia.org/wiki/Divine_Might